Social Morning Tea
By Sue Ballantyne, January 2018

Join us for a social cuppa.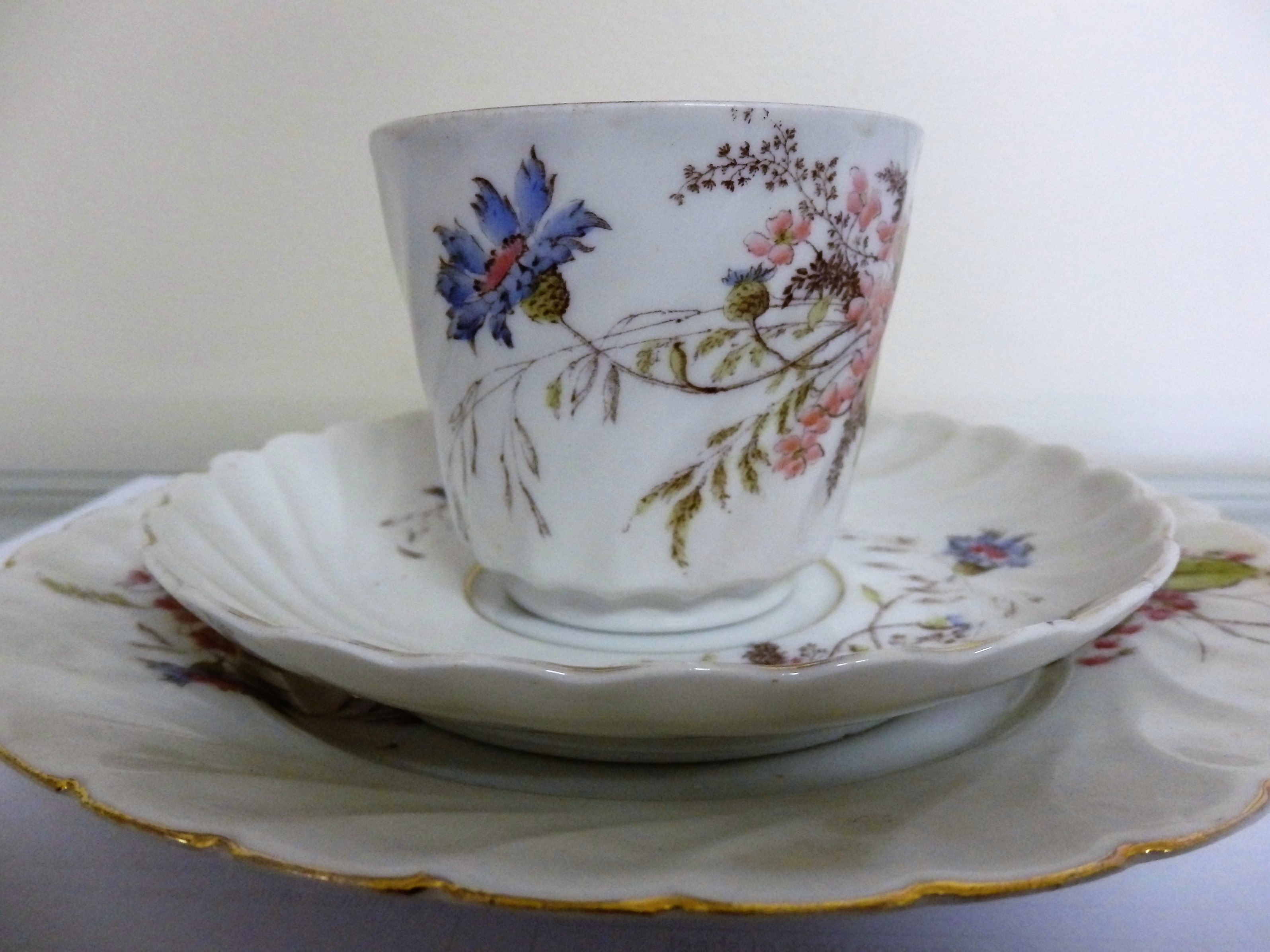 From the Collection of Greensborough Historical Society; donated by Faye Fort
The next Greensborough Historical Society "SOCIAL MORNING TEA" will be on Tuesday 14th August at 10am. Location will be the same as June: Greensborough Plaza, top floor near Muffin Break. This is a social occasion, not a formal meeting. All members and friends are most welcome to join us for a coffee and a chat. Bring your friends! And for your diary, other dates for 2018 are (all Tuesdays) October 9th, December 11th. Locations will vary and will be announced closer to the date. We look forward to meeting you. Sue Brenkovich and Dawn Bennetts
Greensborough Primary School 140th Anniversary
By Sue Ballantyne, May 2018

In 2018, Greensborough Primary School will celebrate its 140th anniversary. Save the date: Saturday 18 August, 2018.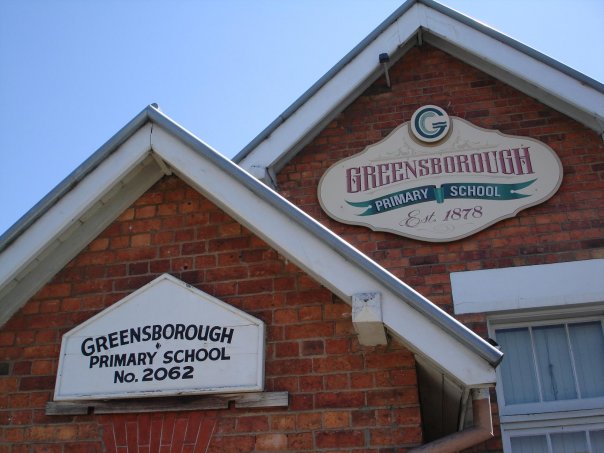 Greensborough Primary School celebrates 140 Years Community Open Day and Reunion Sat 18th August, 2 – 4pm Past students & community members welcome On the day, there will be opportunities to take tours of the school, view photos from the past 140 years, catch up with old friends for a chat and a cuppa and visit the school Art Show. We will also be digging up the old time capsule!
Main Street Plaques
By Sue Ballantyne, July 2018

In June 2018, the Greensborough Historical Society placed 13 historical signs in Stage One of the Main Street Plaques Project.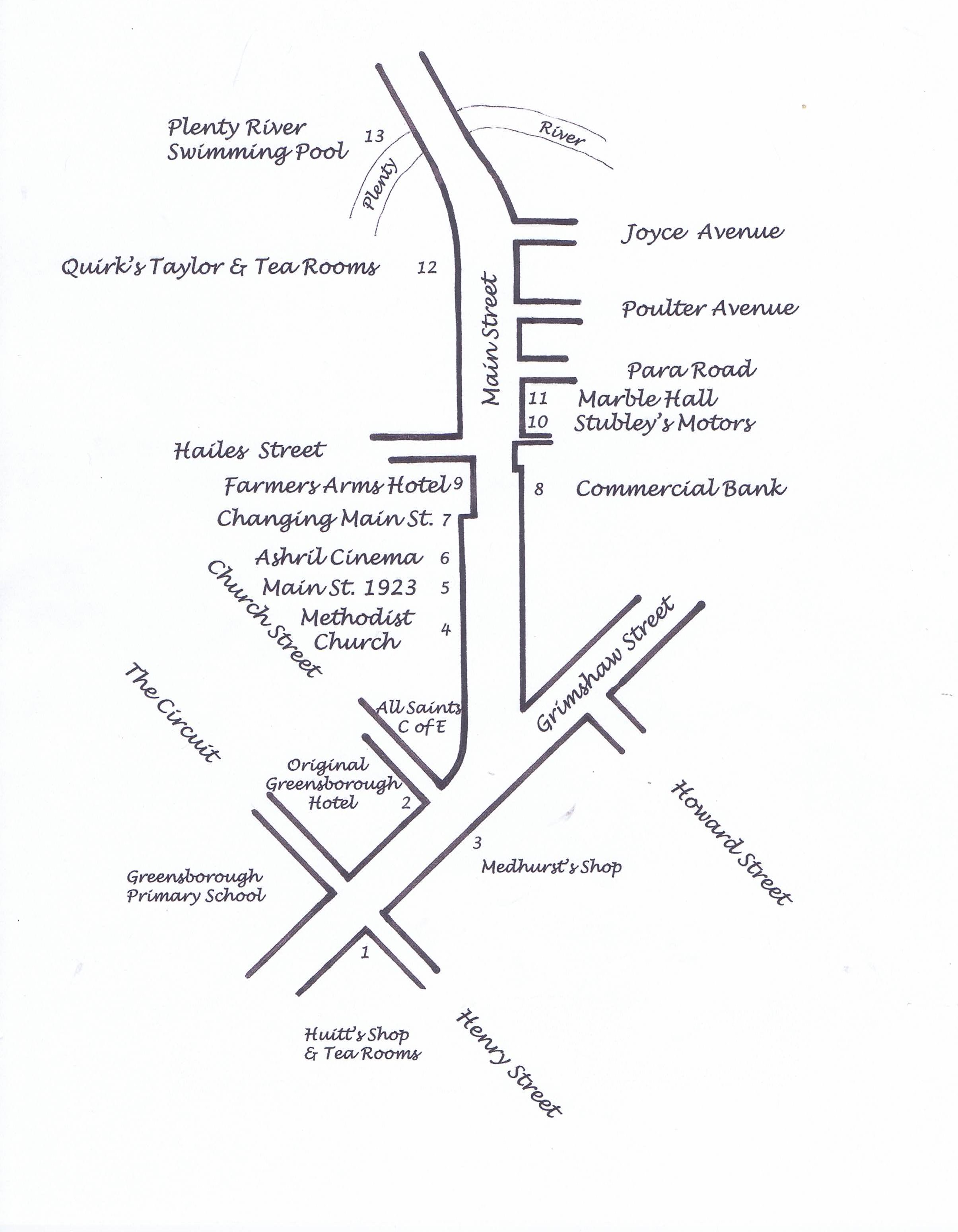 Plan of Plaques in Main and Grimshaw Streets Greensborough
Plaque 1 - Huitt's Tea Rooms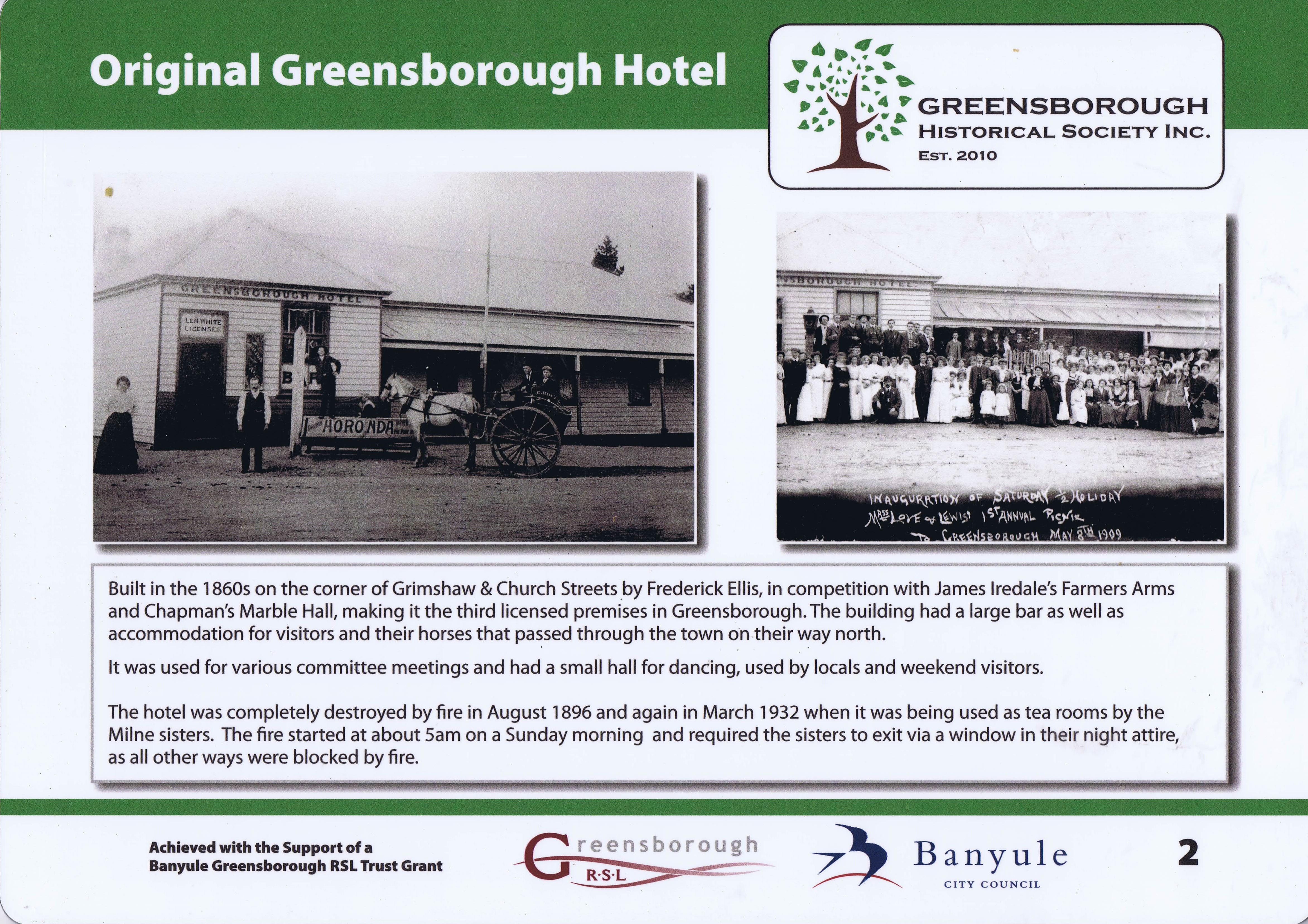 Plaque 2 - Original Greensborough Hotel
Plaque 3 - Medhurst's Shop
Plaque 4 - Methodist Church
Plaque 5 - Main Street 1923
Plaque 6 - Ashril Theatre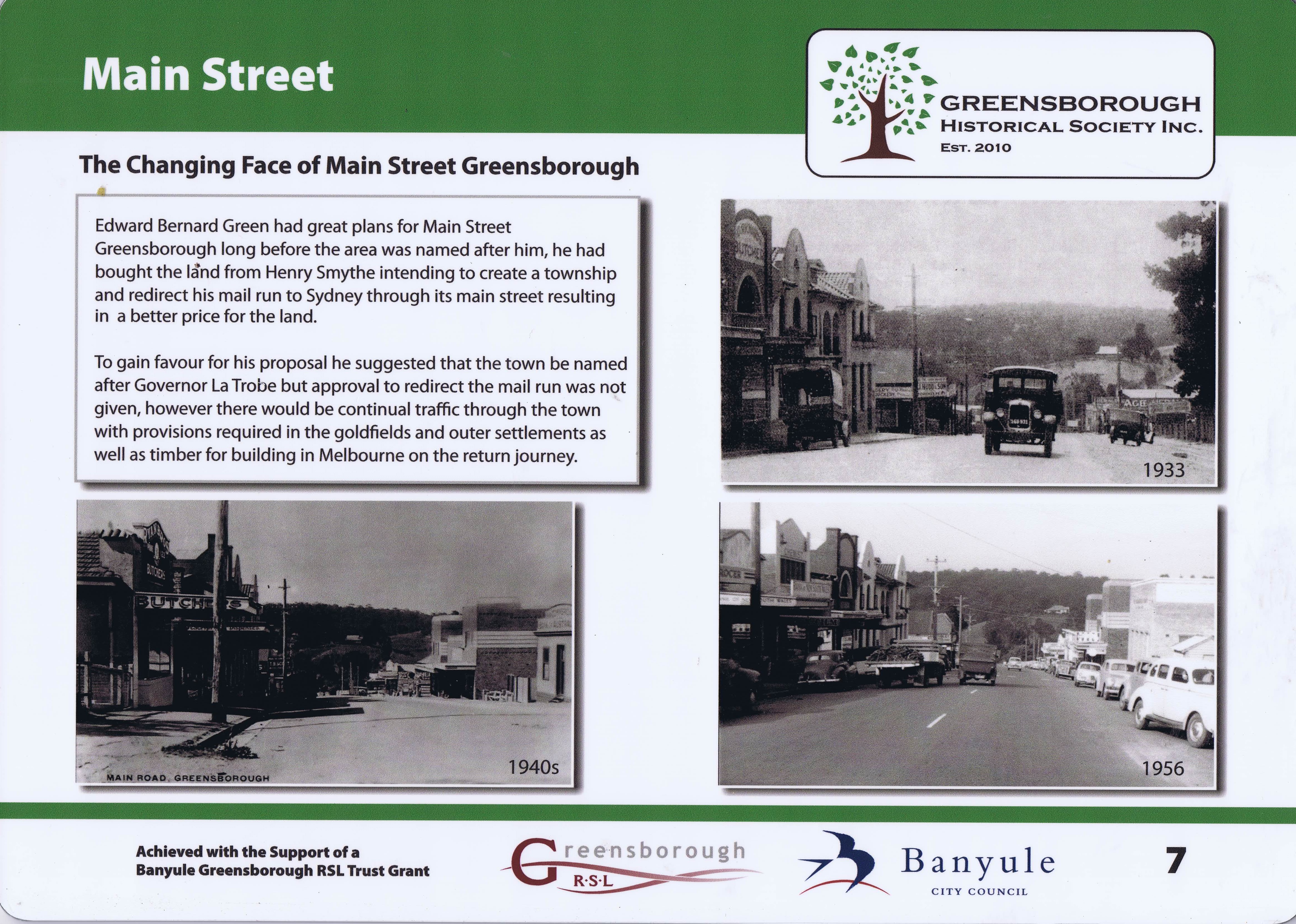 Plaque 7 - Main Street Greensborough
Plaque 8 - Commercial Bank
Plaque 9 - Farmer's Arms Hotel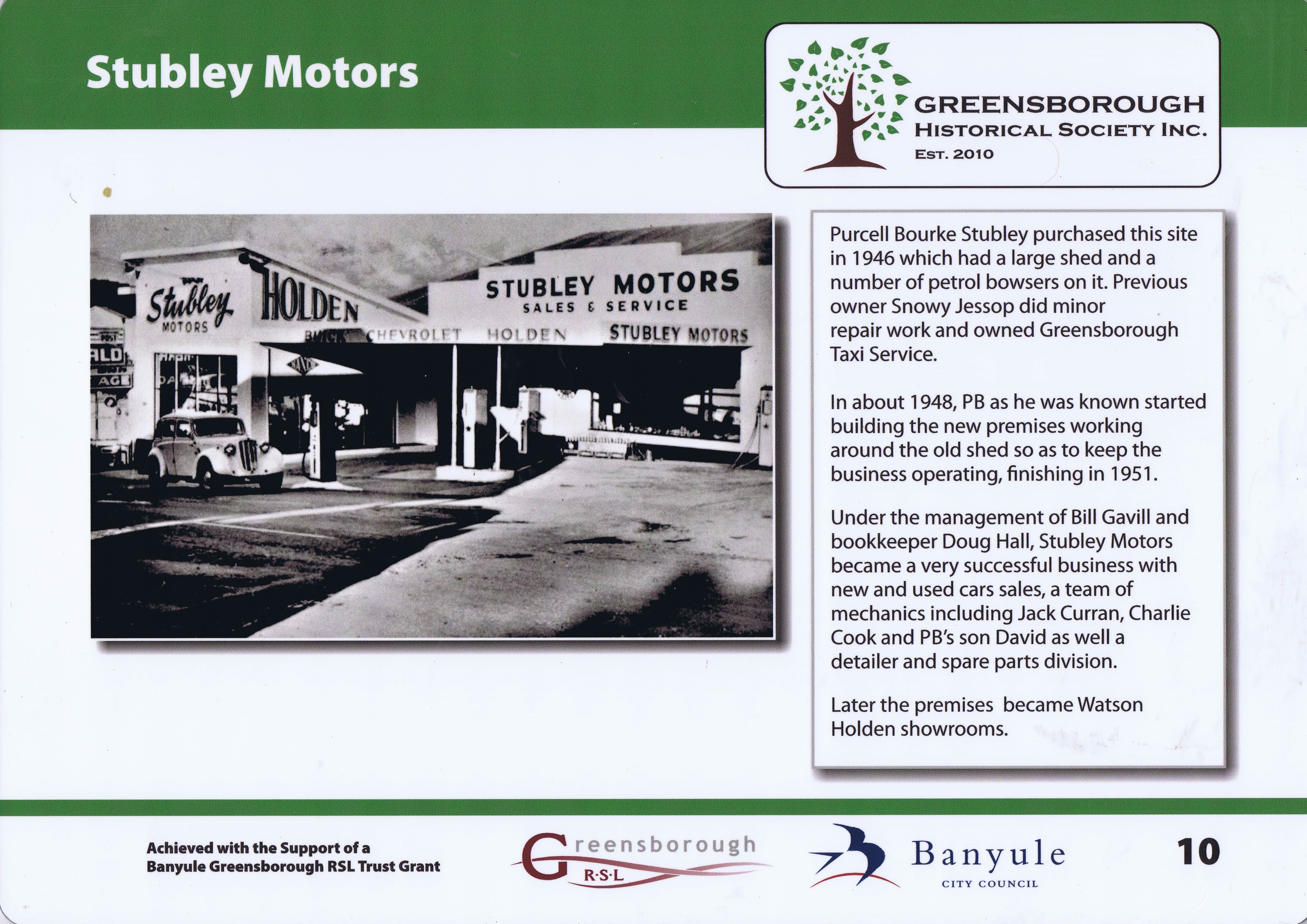 Plaque 10 - Stubley Motors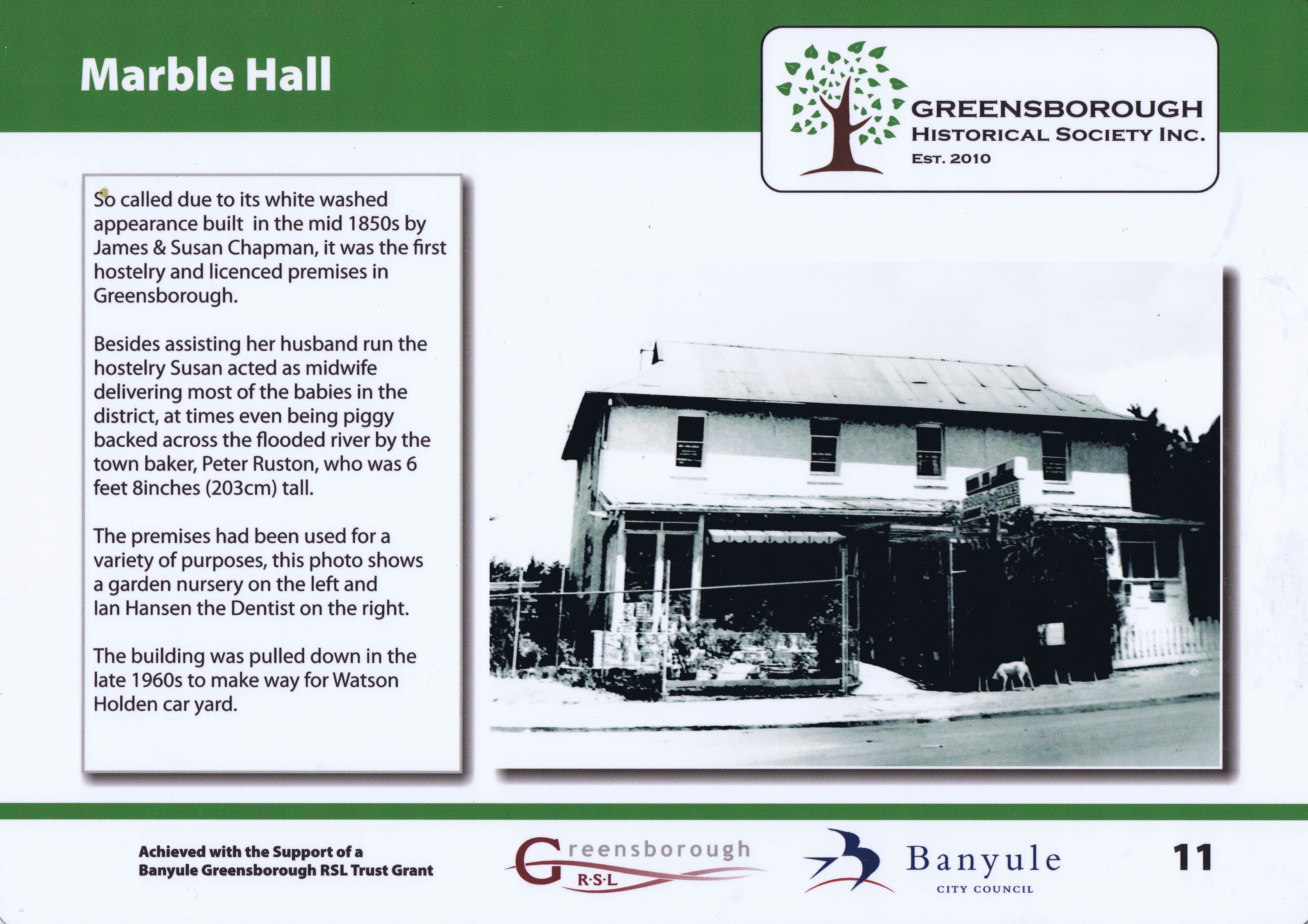 Plaque 11 - Marble Hall
Plaque 12 - Quirk's Tailor and Tea Rooms
Plaque 13 - Swimming Pool on the Plenty River
Even before the Greensborough Historical Society was formed in 2010, GHS President Noel Withers had thought that historical plaques in Main Street and Grimshaw Street would help people be aware of and understand the history of the area. Several members worked on the "Main Street Plaques Project" over the following years and identified about 20 possible sites for inclusion in the project. Sub-committee members included Chris Foster, Jasmine Burge, Sue Ballantyne, Dennis Ward and Noel Withers. In 2015, the Society was successful in applying for a Greensborough RSL/Banyule Grant of $10,000 to implement stage one of the Main Street Plaques Project. Noel has driven the Project since then. The next few years involved meeting with business owners to gain permission to attach the plaques to their premises; designing and producing the plaques – many different ideas were discussed and the final format decided upon. In June 2018, stage one was completed when 13 plaques were installed from the corner of Grimshaw and Henry Streets, down Grimshaw and left into Main Street. The final plaque in this stage is located on the bridge over the Plenty River. Greensborough Historical Society gratefully acknowledges the financial support of the Greensborough RSL and Banyule Council. Thanks must also go to Noella Jacobs of the Greensborough Chamber of Commerce for her support in liaising with local business owners. Thanks also to GHS Committee and members who have supported and encouraged Noel in the pursuit of this project. Further information on each site can be found on the GHS website. Go to the Articles tab and search for "Main Street Plaques Project", or the name of the site in which you are interested: 1. Huitt's Tea Rooms 2. Original Greensborough Hotel 3. Medhurst's Shop 4. Methodist Church 5. Main Street 1923 6. Ashril Theatre 7. Main Street 8. Commercial Bank 9. Farmer's Arms Hotel 10. Stubley Motors 11. Marble Hall 12. Quirk's Tailor and Tea Rooms 13. Swimming Pool on the Plenty River